Accounting & Auditing firms in Fujairah
Audit services are required by several organizations in Fujairah as partners, investors, and shareholders request for and transparency with audited financial reports. Audit plays a vital role in the evaluation and analysis of a business' financial position. Farahat & Co. is one of the trusted audit firms in Fujairah that provide audit and assurance services to help ensure authenticity with financial information of companies. Our seasoned and experienced auditors prepare audit reports that adhere to International Standards on Auditing.
Our services include external audit, internal audit, statutory audit, operational audit and forensic audit. Different types of audit are required by different businesses, and our audit reports are approved by Ministry of Economy.
External Audit Services
If the process is outsourced to an audit firm in Fujairah, then it is considered as external audit. Farahat & Co is a trusted name when it comes to this kind of audit as we follow international standards strictly while maintaining a professional code all throughout an audit process. We work independently from clients so there's no conflict of interest. With an external audit, we provide certification on an entity's financial statements. This certification is often required by lenders and investors, especially from all publicly held companies. An external audit can also be solely for income statement audit, balance sheet audit, financial statement audit, and cash flow statement audit.
Internal Audit Services
As its name suggests, an internal audit is performed in order to determine a company's internal activities and it's carried out by certified internal auditors that are appointed by internal stakeholders. An internal audit's main purpose and one of the most important internal auditor responsibilities is to determine if the internal functions of a company work properly or not.
Operational review, special investigation, complaint, and fraud are just some of the things covered with an internal audit process that is conducted by our team of qualified auditors in Fujairah. Our team provides a general report that contains opinion or feedback, a list of findings from the auditing process as well as its implications. The final phase of an internal audit that our team performs involve providing clients recommendations that benefit organizations.
Forensic Audit Services
This is a special kind of audit that's performed by a forensic auditor as it requires skills in both accounting and investigation. A forensic audit is used wherever the finances of an entity present some legal concerns. For instance, it's used for cases of suspected fraud or embezzlement, determining tax liability, investigating a spouse during separation or divorce proceedings, and investigating allegations of bribery.
With a forensic audit, our certified auditors keep track of actual and fraudulent balance sheets, check for inaccuracies that may be in detailed and/or overall reports, and follow a money trail, if needed. If our experts find discrepancies, it is their job to determine and investigate the causes behind them.
Statutory Audit Services
The audit that's required by local authorities or law on certain financial statements for specific types of businesses is referred to as statutory audit. It involves analysis of financial records on expenses, investment returns, income or profit, and other items. The purpose of a statutory audit is ensuring compliance, determining if funds are handled properly and all required filings and records are accurate. If inaccuracies are uncovered from the audit, appropriate consequences will apply.
Operational Audit Services
An operational audit is focused on the assessment and review of business processes and activities that may result to an indirect or direct impact to an organization e.g. collection of patient account balances or student tuitions. Our auditors can extend the scope of an operational audit to include accounting processes that may impact financial reporting.
Read more
Types of Audit Services Offered
Internal Audit (Operational Audit)
There are various types of audit performed in the organizations of Dubai. An internal audit, also known as operational audit gives the organization an assurance with regard to the effectiveness when it comes to internal controls, risk management, and governance in achieving the company's objectives.
An Internal audit requires
a certified internal auditor who reviews and assesses the process of a business — a thorough examination of an organizations' goals, planning processes, procedures, and results of the operations of a business.
Read more
External Audit (Financial Audit)

Statutory Audit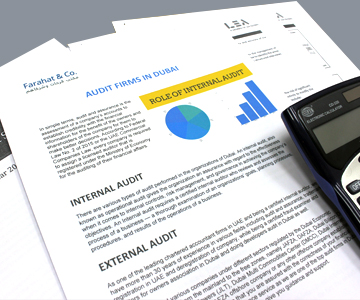 Approved Audit Firm in Fujairah
Farahat & Co, the leading audit firm in Dubai provides audit services in Fujairah with high efficiency, flawless professional approach, and optimum care. Our auditors examine financials not just with the perspective of company management, but also with the users of the audited financial statements like financial institutions. The approach of the firm for audit and assurance is more than mere numbers. Our qualified auditors gather information and they work with clients closely and independently at the same time. The firm only employs auditors that take their time in having a full understanding on the business of clients, as well as on risk spectrum and internal controls.
Our team believes in being transparent, we listen to your concerns, offer practical advice, and discuss your options as needed. We keep clients informed throughout an audit. Our auditors conduct analytical reviews and objective diagnostic tests before making a decision to provide the highest standards for audit. We have highly skilled and experienced professionals that comprise our audit team and they're all aware of the latest methods, techniques, and procedures for audit. Call us today if you wish to discuss with our experts regarding your audit!
Read more
List of Financial Statements used in Auditing of company accounts below:
Financial Statement Audit
The review of a company's financial statements for the organization to have an assurance coming from an external auditor that the financial statements are in accordance with accounting standards.
Balance Sheet Audit
The information in a company's balance sheet is examined to make sure that it is accurate, verifying each item that is recorded.
Annual Report Audit
This is consisted of an external auditor's opinions regarding the result of the examination of a company's financial statements.
Profit and Loss Statement Audit
The revenues and expenses recorded in the statement is reviewed to ensure the accuracy of each item.
Cash Flow Statement Audit
The cash and cash equivalents indicated in the statement is investigated by an auditor, making sure it is precise.
Frequently Asked Questions
What's the difference between internal and external audit?
The main differences between internal and external audit are as follows:
Reports from an internal audit are used by company management, whereas reports from an external audit are required by stakeholders, including lenders and creditors.
Internal audit examines issues that are related to risks and business practices, whereas external audit examines financial records of a business and an external auditor issues expert opinion from the financial report assessment.
What is the basic purpose of an audit?
Statutory audit is conducted to examine an entity's financial statements. The objective evaluation allows an expert to provide an opinion on whether financial records present the financial position of the business fairly. An audit also examines whether statements are prepared in the applicable framework, such as IFRS and GAAP.
Why is it important to engage an independent audit firm in Dubai?
It is necessary to engage an independent audit firm in Dubai mainly to ensure objectivity and independence. Without both factors that affect the evaluation of an auditor, an organization may be misled, often resulting to risks being underestimated or worse, ignored.