Top CA Firms in Dubai, UAE
Apart from the necessity of a statutory audit which is one of the legal requirements of businesses operating in the UAE, an audit firm in Dubai providing a range of audit services provides crucial and valuable insight.
At Farahat & Co, our audit services in Dubai determine whether or not business organizations are providing fair and true views about their financial position and performance. Being one of the leading auditing firms in Abu Dhabi and auditing companies in Dubai and the rest of UAE, we provide company administration comfort regarding the accuracy of their accounts.
According to Federal Law No. 2 of 2015 or the UAE Commercial Companies Law, every company is required to assign a licensed auditor that is registered under the Ministry of Economy for the auditing of their financial affairs. Our team of seasoned auditors help reveal systematic errors which inevitably occur.
Audit Firms in Dubai – with 35+ years of Excellence
In the United Arab Emirates (UAE), auditing firms in UAE are critical most especially with decision making for businesses that rely on information of company management. Our team's process of audit and assurance challenges robustness of an organization's internal controls and offers valuable feedback and external perspective.
There are a lot of reasons why you would seek out our team's help. This includes government regulations, one of the requirements of your company's by-laws, as well as to obtain approval for lending from a financial or banking institution. However, there is only one good reason why you would want to call us: our team is the best with what they do.
What our audit service in UAE include?
Maintenance for the setup of an internal audit department that's efficient;
Accounting and audit consulting services;
Restatement of a company's accounting records according to standards of UAE and in full compliance with GAAP and IAS/IFRS;
Organizational, operational, and financial audit under statutory and international regulation
We work with private and public companies, non-profit organizations, and closely held corporations. Our team has experience in various industries and business sectors, including but isn't limited to the following:
What are Industries and business sectors, including but isn't limited?
Medical and healthcare
Construction
Manufacturing
Restaurants (food and beverage)
Service industries
Real estate
Distribution and wholesale
Telecommunications
Transportation
Aside from this, there are furthermore reasons why financial audit is important for your business.
Get A Quote
Audit firms in Dubai
Audit Firms in Abu Dhabi
Audit Service in Sharjah
Audit Service in Fujairah
Audit Services in Dubai: Audit Engagements We Offer
Internal Audit in UAE
Internal audit in UAE is designed as an objectivity consulting service which adds value and improve business operations. Our team adapts a disciplined and systematic approach in assessing the risk management,
corporate governance, and internal controls of an organization. The scope of our
internal audit service in UAE
will depend on the client or board of directors. With this type of audit engagement, our auditors will cover operational review, compliant review, fraud investigation, and internal control review. There could also be special tasks assigned to our team by company management.
Read more
External Audit in UAE

Statutory Audit in UAE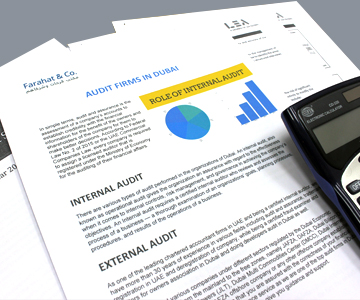 Leading Auditing & Accounting Firms in Dubai, UAE
As one of the leading chartered accounting firms in Dubai, UAE and being a certified internal auditor, we have more than 35 years of experience in various fields including audit and assurance, trademark registration in UAE and deregistration of company, while being a certified fraud examiner and auditors for owners association in Dubai and doing developers audit in Dubai as well.

We have served various companies under different sectors regulated by the Dubai Economic Department (DED) from the mainland to the free zones, namely JAFZA, DAFZA, Dubai Silicon Oasis (DSO), Jumeirah Lakes Towers (JLT), Dubai Multi Commodities Center (DMCC), Dubai Internet City, etc. Regardless if it's a JAFZA offshore company or any other offshore company established in the UAE, we can aid you in ensuring that you are assured with the correctness of your financial matters with our quality audit and assurance service as we are one of the top audit firms in Dubai with a number of the best auditors in Dubai to give you guidance and support.
Read more
What are Our Auditing Standards?
As most of the audit firms in UAE, we are following the International Financial Reporting Standards (IFRS), a set of accounting standards that are constructed by a non-profit organization named as the International Accounting Standards Board (IASB). It is a known accounting or auditing standard worldwide, being used by companies and becoming a standard global standard.

Why Clients Choose Our Audit Firm in Dubai?
At Farahat & Co, we consider our clients as our partners and that they deserve more – a lot more attention, experience, and expertise. We know our clients also want peace of mind, and that is exactly what we aim for.
There are various reasons why clients choose us when they are in need of an auditing company in UAE as their partner. Here are some of them:
Provide unbiased audit and ensure full compliance
Most small businesses and large corporations in Dubai and the rest of UAE prefer us over hiring an inhouse team of auditors. This is even when they are aware of the fact that our team does everything inhouse auditors are able to do. The reason? It is because a third party is capable of seeing things from a detached perspective.
With an inhouse team of auditors, not only are you spending a lot of money to maintain them, but there is also a sense of professional and emotional attachment to an organization. This can prove to be something inconsequential to you. However, with big projects, crucial moves, and complicated issues like regulatory complexities and errors in taxation, our team is able to spot problems. As they are uncovered, solutions are created which are sure to be unbiased and suggested without any fear of hurting or offending the company administrators.
There isn't any risk for audit results to be anything less than your organization's tool in showing everything that there is to present. The seasoned and skilled auditors that comprise the firm see problems as they are and not as output of friends in other departments of the company.
Earn more credibility from top auditing firms in Dubai
Whether you are in need of an audit service in UAE for compliance purposes, a presentation, or an investment, our team will help you gain credibility. Yes, even more than what an in-house auditor in UAE can do as we lack bias. As the people who are auditing your business are not linked directly to it, then the audit reports you will be presenting to partners and other concerned parties will provide a sense of transparency and truthfulness. In essence, this makes your business look like there is nothing that it's hiding from anyone when it comes to its finances.
Comprehensive review of internal processes conducted by audit firms in UAE
Sometimes, it's going to take another person to take a close look at your home in order to determine the parts that are not cleaned properly. Similarly, companies choose us as their partner to tell them about the things that their own financial departments have missed because of familiarity. After all, new eyes mean a brand-new perspective most especially with experts' keen eye. Being among the top audit firms in Dubai, we can help you unveil loopholes which are very easy to miss and ignore even with a trusted audit professional retained inhouse.
Support from experienced auditors of auditing firms in UAE
Our team of experienced auditors in UAE have handled businesses from various industries, which means they have a broader experience that is specific to auditing. Most auditors are good and reliable; however, there's something valuable with expertise and experience gained by our team who have partnered with a broad range of businesses.
Take note: each business comes with it its own unique issues and problems which arise during an audit procedure.
Working with a team with an extensive experience will help you respond more quickly and efficiently to even the most difficult of situations – ones that internal auditors may haven't experienced yet.
Training for internal audit staff
The firm is one of the most reputable auditing firms in Dubai and trusted audit firms in UAE. Because of our wide and extensive professional experience, we are hired by organizations for training and consultancy purposes. With our help, an inhouse staff can become better prepared for common and unique issues which may arise throughout the lifespan of an organization. Our team allows a business to have professionals that can respond to relevant concerns more efficiently and accurately.
Our experts here in Farahat & Co have over three decades of experience. Take advantage of our team's unparalleled expertise today by calling us to book a consultation!
Read more
Get A Quote
List of Financial Statements used in Auditing of company accounts below:
Financial Statement Audit
The review of a company's financial statements for the organization to have an assurance coming from an external auditor that the financial statements are in accordance with accounting standards.
Balance Sheet Audit
The information in a company's balance sheet is examined to make sure that it is accurate, verifying each item that is recorded.
Annual Report Audit
This is consisted of an external auditor's opinions regarding the result of the examination of a company's financial statements.
Profit and Loss Statement Audit
The revenues and expenses recorded in the statement is reviewed to ensure the accuracy of each item.
Cash Flow Statement Audit
The cash and cash equivalents indicated in the statement is investigated by an auditor (audit firm in Dubai), making sure it is precise.
Frequently Asked Questions
What's the difference between internal and external audit?
The main differences between internal and external audit are as follows:
Reports from an internal audit are used by company management, whereas reports from an external audit are required by stakeholders, including lenders and creditors.
Internal audit examines issues that are related to risks and business practices, whereas external audit examines financial records of a business and an external auditor issues expert opinion from the financial report assessment.
What is the basic purpose of an audit?
Statutory audit is conducted to examine an entity's financial statements. The objective evaluation allows an expert to provide an opinion on whether financial records present the financial position of the business fairly. An audit also examines whether statements are prepared in the applicable framework, such as IFRS and GAAP.
Why is it important to engage an independent audit firm in Dubai?
It is necessary to engage an independent audit firm in Dubai mainly to ensure objectivity and independence. Without both factors that affect the evaluation of an auditor, an organization may be misled, often resulting to risks being underestimated or worse, ignored.